WRITINGS
CARTOONS
ANIMATION
and Video
BACK
I'm learning how to use Flash! Hooray hooray for me! What's even better, Flash doesn't need to be encoded! I can stick it right up on my site when it's done! Hooray!

NO LIMITS! - First Flash animation. Silliness.

Dolf In Heaven - More (much more) flash. Explore the way far-out new sublime etymology of Heaven with Dolf!!! The sweet music is by Feathery Jon, whose MIDIs excite me tremendously but whose permission I didn't actually ask as he is NEVER on line and my deadline was ALWAYS before Spring Break. Hopefully he doesn't mind his work being used for the forces of the very very St00pid...
I did some pretty sweet animations in After Effects with Andrew during sophomore and junior year. Did i encode them? No. I am lazy lazy lazy. But let me assure you, they are very good.
Took Electronic Media Studio II sophomore year, which is a video class. Here're some crazy videos/animations I made in it. I compressed them down so they're not too humongous but as a result are kinda ugly looking. I did it for you.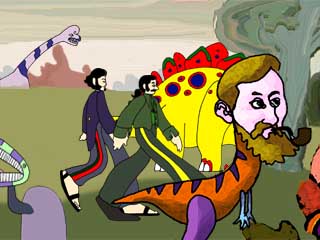 Yellow Submarine Spoof- Comrade Andrew and I's final project for EMS II. Animating this was kinda ardruous, basically he stayed up for a whole week making backgrounds while I stayed up making animations, then we spent the following week staying up animating everything in After Effects (a program I love dearly, incidentally). Very crazy Yellow Submarine spoof, with some jokes about art school, the apocalypse, and whatnot thrown in for good measure. 4 minutes, 47 seconds / 4.94 Mb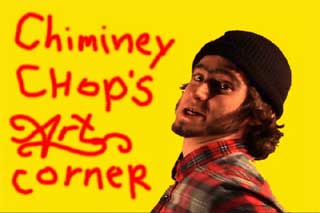 Chiminey Chop's Art Corner- This is the type of video that seems really funny towards the tail end of a semester where you've had to stay awake for days at a time, and you've resorted to eating one meal a day (which is usually a bowl of soup). This utter piece of insanity (piece of...something) was the result of comrade Andrew and I's mental and physical deterioration towards the end of fall semester sophomore year. Basically, we dressed Andrew up as a charmingly rural individual, and had him make extemporaneous remarks on the art on exhibit in our building, and candidly interview random people we found in the painting studio. 7 minutes, 20 seconds / 8.40 Mb





Played around in Director 8.5 a bit in my Electronic Media Studio I class. Kinda useful, and kinda awful, but it gave me enough background in keyframing and such that you'll likely be seeing some Flash content abouts later.


Asbest-Os- First Director project. 6 seconds, no sound, basically a prettier version of the Asbest-Os banner you see at the top of the page sometimes. Only, its been kinda de-prettied by the video compression I did to make it not-awfully small. Oh well. 435 Kb

Beating Upness of Person-thing- Second Director project. Tested out walking cycles, interaction between two figures, a scoche of particle-motion and some sound synching. Kinda neat. 888 Kb

Help With Director- My final, interactive, very sarcastic, Director project for Freshman EMS. It basically sums up most of my complaints with Director as a program, with some silliness (and a handful of inside and outside jokes pertaining to the class) added in for good measure. 2.29 Mb